The last three months or so have seen a significant acceleration in my rate of learning. I put this down to the fact that I've been spending time (both structured and unstructured) with three people – Nathan Wheat, Greg Mulholland and of course the indefatigable #90.
I count myself lucky to have other people who share similar passions, goals and direction and to me who I see almost daily. The broader VMware community is an amazing machine, but you really can't substitute for face to face time with people – being able to throw out an idea off the cuff, or ask for advice and jump onto a whiteboard is invaluable.
Recently we've harnessed this a little more formally into a study group for the VMware Cloud Certification track. VCAP-CID has been successfully tackled and VCAP-CIA is next on the list, with VCDX-Cloud a target for some. Studying with people is beneficial for a number of reasons and I'll have a crack at a couple of them now.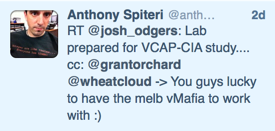 yes we are
**1. Everyone has a Different Way of Learning
** This may seem like a downside, but what it actually means is that you get a really well rounded learning experience. I'm not particularly thorough with study – I tend to identify an area of weakness and try to build it into a strength. Looking back I've always done this… my first foray into certification was the NT4 Server MCP exam and I spend about 80% of my time working on unattended installs. I think there may have been two questions on it in the exam, but I surely got them right! With my CCNA it was subnetting. More recently with the VCAP-CID it was Allocation Pools and Networking. Having Nath and Josh studying with me (in their more process driven approach) means that content which I would otherwise sacrifice to feel more comfortable with my weaker areas gets a solid amount of attention also.
2. Nobody Knows Everything
Believe it or not, we all (yes, even Josh) make mistakes from time to time. Written text can be interpreted different ways, and sometimes the study material is plain wrong. With a pool of experience to draw upon you can counter all of that. Also, having a group of people with experience that they can draw upon adds depth to what you're studying, and means that you have someone who knows things that you don't who is willing to teach you! That accelerates the learning process significantly.  
3. Motivation
I really don't want to fail if these boys pass. I also don't want them to pass before me. This keeps me on my toes when I feel like I've had enough, or don't really feel like studying. It encourages me to practice the things that I'm sure I know how to do "just one more time" to make sure that I actually do know them. Then, after a while, learning becomes addictive – we're now about two weeks out from sitting the Cloud Admin exam and I'm already thinking about what I can do once we've passed it.
4. It's Fun!
Assuming you don't take yourself too seriously you can have a lot of fun with it. Reading the VCAT for four hours straight would not be my idea of a fun night – but throw in some pizza, a few beers and a whiteboard with a couple of mates and before you know it you've knocked over a half of the blueprint objectives. 

This approach doesn't just work for IT certifications – Justin Warren attributed his success with his MBA to getting into a study group from day one. If you are thinking about learning much of anything, I'd highly recommend searching for like minded people to join up with – leverage social media if you don't know anyone (yet) who is interested in doing the same things as you. 
I don't know what more to say – until you've experienced it, you won't comprehend the difference that this kind of thing makes. In fact, only downside of this whole process is figuring out what to do when you finish!